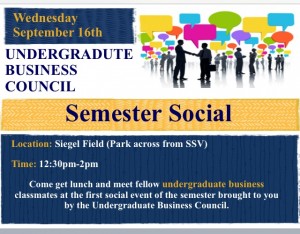 The Undergraduate Business Council (UBC) announces the date of its first Semester Social, a networking event aimed at fostering relationships between business students. They will be gathering on Wednesday, September 16 from 12:30-2 p.m. at Siegel Field (the park across from State Street Village) to enjoy a free lunch and get to know each other better.
The Semester Social aims to provide a stress-free environment for students to communicate away from professors and other staff. As business students we've all heard that networking is key so why not start now? Students are invited to attend as long as their schedule allows. The executive board of UBC will be present to facilitate discussion and answer any questions about the organization. Any student interested in becoming a member is encouraged to come by and talk with us.
* Although this event is geared toward current business undergrads, any student taking business courses or interested in learning more about business is welcome to attend.