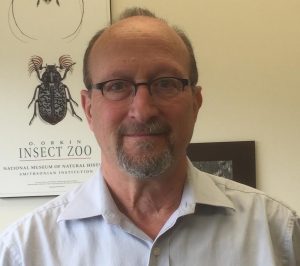 Tom Daniel will speak on "Conflict Resolution: How Multiple Sensor Modalities Combine in Animal Flight Control" for the 2017 Dale Webster Lecture on Wednesday, April 26 at 4 p.m. in The McCormick Tribune Campus Center (MTCC) Auditorium. This annual lecture, sponsored by the Department of Biology, honors Dale Webster, professor emeritus of biology at Illinois Tech. RSVP to Lauren Shelby at 312.567.5030 or rsvpevents@iit.edu.
Daniel is the Joan and Richard Komen Endowed Chair of Biology at the University of Washington, a Guggenheim Fellow, and a MacArthur Fellow (the "genius grant" award).
Flying creatures acquire and process information from many sensory inputs including vision and touch that encode positions, motions, and forces. Maintaining control in animal flight with flapping propulsion is inherently difficult, demanding exquisite sensory processing. Daniel will explain novel sensory information pathways to flight control, how different types of senses contribute to movement control, and how we may develop a mechanistic approach to understanding the contributions of different senses. He will focus on hawkmoths, a model system for studies of sensory processing.
Trained in biology and engineering, Daniel has worked at the intersection of these fields for more than 35 years. His research and teaching meld neuroscience, engineering, computing, and biomechanics to understand the control and dynamics of movement in biology. At UW, he holds adjunct appointments in the departments of computer science and engineering, mechanical engineering and bioengineering, and he is a member of the neuroscience faculty. He directs the Air Force Center of Excellence on Nature Inspired Flight Technologies and Ideas, and co-directs the UW Institute on Neuroengineering. He also is a co-principal investigator for the UW Institute of Data Science and for the UW Moore-Sloan Data Science program and an award-winning teacher. He received his Ph.D. in biology from Duke and did postdoctoral work at Caltech.