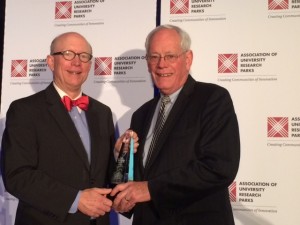 University Technology Park at IIT is the recipient of the Association of University Research Parks (AURP) Emerging Research Park Award.
David Baker, IIT vice president for external affairs and executive director of University Technology Park at IIT, was in Boca Raton, Fla., on Thursday, December 4 to receive the award from AURP on behalf of University Technology Park from Greg Hyer, chair of the Awards Committee and associate director of University Research Park, an affiliate of the University of Wisconsin–Madison. The award is bestowed every year on the research park that has shown significant growth and success in less than 10 years.
University Technology Park at IIT has 300,00 square feet of laboratory and office space; it is home to 23 companies and more than 400 employees. Visit the University Technology Park
website
to learn more.