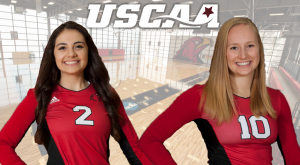 The United States Collegiate Athletic Association has announced weekly honors for action between October 31 and November 6. Courtney Darling was named the USCAA's Setter of the Week, while Irena Grauzinis was named the USCAA's Player of the Week.
Darling earned her first weekly honor for her performance during a November 5 ACAA Championships tri-match at Illinois Tech. The freshman tallied 59 assists over two matches against Finlandia University and the USCAA's third-ranked team, Alfred State College. Against Alfred State, Darling tallied 30 assists and two service aces.
Grauzinis also was strong over the weekend. She totaled 34 kills, three aces, and 22 digs. Against Alfred State, the senior had 18 kills, 18 digs, and two aces.
The Scarlet Hawks will head to Virginia Beach, Va. for the USCAA National Championships. For a full schedule and information, click here.