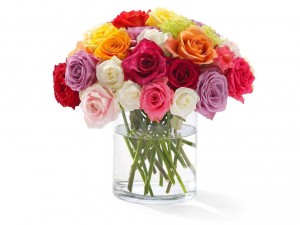 uFarmIIT is hosting the second annual Valentine's Day Rose Sale event to help raise money to fund seeds, repairs, and expansion of our farm. Last year was a huge hit and we took your feedback into our planning for this year's event. Red, cream, hot pink, yellow, and lavender roses will all be available in any combination for any occasion. These roses are not just for your significant other. In a national ambiguous survey 110% of people said getting a rose makes them very happy and four out of five professors will consider increasing a grade if they receive a rose. Every purchase comes with a complimentary Hershey's Kiss and Valentine's Day card. Our most popular Valentine's cards from last year "As a friend" and "Let's get down to business" will be returning again this year with a few more clever instigators.
Each rose is $2 with the option of getting a bouquet (twelve) for $20. We can accept cash or card. The bouquet comes with a wrapping paper exterior for a nice presentation. We will be in front of The McCormick Tribune Campus Center (MTCC) Bookstore on Thursday, February 11, Friday, February 12, and Saturday, February 13 between noon and 6 p.m. If you are worried about not being able to pick up the roses during these times or have any other questions about the event email farm@iit.edu. You can pre-order your roses here. We hope to continue the tradition of allowing donations to random students eating alone in The Commons, please reach out if you would like to sponsor.
uFarmIIT is a student-run urban agriculture movement on campus that has been growing food for the university and the neighboring communities for years now, entering our fifth season. Located on the quad, we utilize a hoop house to grow produce 44 weeks of the year. Last year we donated over 150 pounds of produce to the St. James Food Pantry in the local community and donated to over 330 people on campus. This year we are installing solar panels that will control an automated watering system on the farm and combined with a more efficient grow schedule, we can grow even more. Along with traditional gardening we are researching into collecting waste from campus and creating compost and growing mushrooms with spent coffee grounds. If you would like to learn more reach out to uFarmIIT on Facebook and Hawklink.