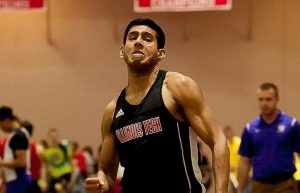 The Illinois Tech Men's Track and Field team drove north to Ripon, Wisconsin, on February 3 to compete in the Ripon College Red Hawk Invite. Illinois Tech placed sixth in the meet with a score of 46.
Meet Highlights
Saisaketh Valluri dominated the field in the Long Jump finals, improving by 0.23m to win the event at 6.40m. The second-place finisher was 0.21m behind Valluri.
Joseph Yassin was the second-place finisher in the Shot Put at 13.36m. He also earned a finals appearance in the Weight Throw (fourth place, 13.47m).
Brandon Bortei-Doku was impressive in the 60 Meter Dash, placing seventh out of 21 participants with a time of 7.45s. Demis Thomas was not far behind, finishing eighth at 7.49s.
Bortei-Doku was also a finalist in the Long Jump, finishing seventh at 5.89m.
Thomas (10th place, 24.15s) and Brendan Batliner (14th, 24.59s) led the way in the 200 Meter Dash.
In the Mile, Cole Dammeier placed seventh out of 26 with a time of 4:42.41. He was also strong in the 800 Meter Run, finishing with a time of 2:07.94 and a 12th-place finish.
Tom Doyle clocked in just after Dammeier in the 800 Meter Run (13th place, 2:08.47).
In the Triple Jump, Ryan Fagan placed sixth with a mark of 12.36m. He also earned a third-place finish in the High Jump (1.75m).
Up Next
After a weekend off, the Scarlet Hawks will compete at the University of Chicago Margaret Bradley Invite on Saturday, February 17. The meet is set to begin at 11:30 a.m.