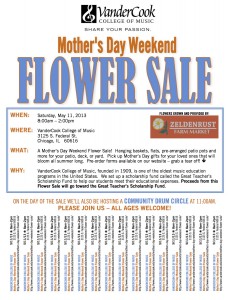 VanderCook College of Music will host a flower sale on Saturday, May 11 from 8 am – 2 pm at the college's building at 3125 S. Federal.
There will be annuals in hanging baskets, flats, pre-arranged patio pots and more for sale. Pre-order forms and more information available here.
There will also be food trucks stopping by throughout the morning as well as a Community Drum Circle at 11 am.
All proceeds from the sale will benefit VanderCook's Great Teacher's Scholarship Fund – a fund that helps current and future music educators meet their educational expenses.
Questions? Please contact Amy Lenting at alenting@vandercook.edu or 312.788.1120.