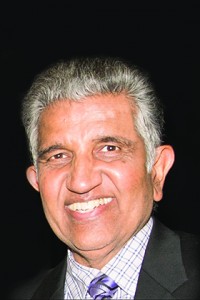 Meet Vasudevan "Raj" Rajaram (LAW '91), the 2016 Alumni Service Award winner.
Rajaram spent 41 years in the geotechnical and environmental engineering field and worked for five major companies in the United States and Canada. In 1986 he founded Midwest Engineers in Chicago and decided to act on his interest in environmental law and take night classes at Chicago-Kent College of Law. Although he earned his juris doctorate, he elected to remain in the engineering field and founded Tetra Tech, an environmental management company, in India in 1997. Rajaram has contributed to more than 40 publications and has written four books; he is currently working on his fifth.
The 2016 Alumni Awards luncheon and ceremony will recognize 13 alumni and one civic leader. Help celebrate these extraordinary winners on Friday, April 29 at 11 a.m. in Hermann Hall. Registration is required, and tickets are $50 each.