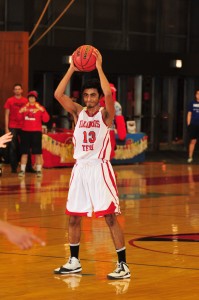 The United States Collegiate Athletic Association has named Illinois Institute of Technology's Vignesh Rajagopal the Division I Men's Basketball Student-Athlete of the Year. The award was presented to Rajagopal on March 1 at the USCAA National Championships Banquet in Uniontown, Penn. It is given to a student-athlete who excels in academics and community involvement.
"We have many student-athletes who are strong in the classroom and contributors to our success in the arena," said Illinois Tech Athletic Director Joe Hakes. "Vignesh brings an extra dimension of being a great teammate to our men's basketball program. He is one of the most dedicated and hardest working individuals, which is a carry-over from how he approaches his studies. This award truly recognizes a student-athlete in every sense of the term. We are proud of what he does and will continue to be after his time at Illinois Tech."
Rajagopal, a third-year, balances the role of team captain for Men's Basketball with a bevy of extra-curricular and volunteer activities off the court, while maintaining a 3.8 grade point average with his Electrical Engineering coursework. He's taken his success in the classroom to a platform to help others by tutoring for Illinois Tech's Academic Resource Center and for Mt. Carmel Church. Rajagopal also volunteers at The Museum of Science and Industry, where he has given live scientific demonstrations and simulations for all age groups.
On campus, Rajagopal has been a group leader for IPRO, a program in which student groups tackle issues on campus and in the community in order to create solutions. He's also involved with Illinois Tech's intramurals department as one of the go-to student workers, encouraging participation in different leagues and spearheading a project with Athletics to develop tracking software to better monitor the use of the campus' workout facility.
Rajagopal also won Microsoft Chicago's "Hack-a-thon," for designing an automated device with his roommate that allows them to unlock their dorm room using a smartphone app. He also built a water alarm clock based on what he learned in his Electrical Engineering classes.
"He is the hardest working most dedicated guy on our team," said Head Men's Basketball Coach Todd Kelly, who has coached Rajagopal for two seasons. "We practice every morning at 6 a.m., and he is there by 5:15. Each day over the summer, he would text me to ask if he could use the shooting gun. He is a tremendous asset not only to our basketball program, but to the institution overall. This year, he really stepped into a leadership role on our team and he truly leads by example."
Rajagopal credits others for his success as a leader on and off the court.
"The real credit goes to my encouraging teammates, my coaches, and most importantly my family," said Rajagopal. "This is, without doubt, a huge honor for me, but I'm hoping it goes beyond that and has a positive impact on both our rising basketball program as well as our athletic department as a whole. I'm just happy to be able to do whatever I can to keep pushing our program to be better. Looking ahead to my senior season, I feel that this award is an indication that we are headed in the right direction and that our hard work is paying off."
Rajagopal already has his sights on next season and how he can help his team get to the next level.
"It is important to remember that this is by no means an end goal," said Rajagopal. "As my teammate Anders Bybjerg often reminds me: 'If what you did yesterday still looks big, you haven't done much today.' Take nothing for granted. Welcome to the grind."
The USCAA's Student-Athlete of the Year award is selected by a committee comprised of National Office members, board members, and member Athletic Directors. The USCAA provides small colleges the opportunity to compete against like institutions in size and resource for National Championships and student-athlete recognition.