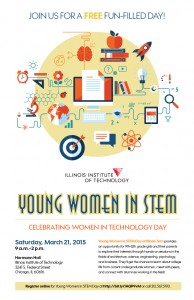 Student volunteers are needed to support the Young Women in STEM Day on Saturday March 21, 2015 in Hermann Hall from 9 a.m.-3 p.m. Young Women in STEM Day is an Illinois Institute of Technology community activity aimed at introducing young women in high school to the STEM fields via hands-on workshops and sessions, during Women's History Month. Last year, approximately 160 high school girls from the Chicagoland area attended this event and we anticipate a similar number this year.
Deadline to register is Friday, March 13.
Responsibilities include greeting guests as they arrive, checking guests in at the registration table, ensuring all students are accounted for and safe at all times, communicating any issues to program staff – including parent and student questions and concerns, providing support to program coordinators during sessions, tours and workshops, and participating in pre-program training and preparation.
Volunteer shifts:
Morning: 8:30 a.m.-noon
Afternoon: noon-3 p.m.
Qualifications and Characteristics:
Illinois Tech students – undergraduate or graduate
Excellent communication skills, including listening to questions and finding quick answers
Social and interpersonal skills, intercultural sensitivity, and a demonstrated ability to collaborate effectively
Eagerness and genuine commitment to the program's mission and to working with talented and diverse high school students
Register here.
Contact the Student Center for Diversity and Inclusion at scdi@iit.edu with any questions.
This event reflects the values expressed in IIT's Diversity Statement and is intended to promote diversity at IIT.