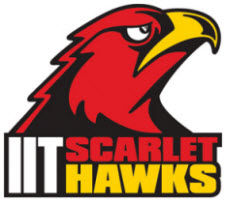 Would you like to watch the Illinois Tech Scarlet Hawks games live in action from home instead of the stands? You now can via streaming video and audio, straight to your computer, iPad, or iPhone. This channel is the ultimate place for Hawks fans on the Web. Go Hawks!
Just click here to watch the current game and also see the lineup of upcoming games.
Upcoming broadcast schedule for Illinois Tech Homecoming on Saturday, September 22:
Women's Volleyball vs. Saint Ambrose University at 1:00 pm
Women's Soccer vs. Holy Cross College at 5:00 pm
Men's Soccer vs. Holy Cross College at 7:30 pm
Remember to sign up for text messaging and email alerts on games and all things Scarlet Hawks to never miss a single minute of the action!