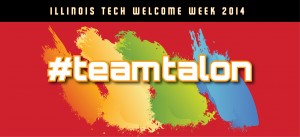 Illinois Tech invites new students to start the new academic year off right with dozens of events hosted by the Office of Campus Life including information seminars, opportunities to meet fellow new and current students, and a welcome by IIT President John L. Anderson and Provost Alan Cramb.
Welcome Week 2014 continues through Sunday, August 24, 2014. Highlights for Friday and the weekend include:
Friday, August 22, 2014

Welcome activities designed to help new students meet faculty, staff, and fellow students:
10:30 a.m. — Convocation at Hermann Hall
Join President John L. Anderson and Provost Alan Cramb for a special welcome to campus. This is a mandatory event for all new first-year students.
11 a.m.-1 p.m. — Student Organization Festival (Hermann Hall Gallery Lounge and Expo)
Join the student organizations of IIT to learn about getting involved on campus.
2-3 p.m. — Covering the Bases (Hermann Hall Ballroom)
Learn what it means to be part of the diverse community that is IIT. Interactive involvement with IIT's diversity is a unique aspect of the community. Learn how to work together with your future classmates, and about how past experiences, current working styles, and interactions with fellow students can shape the IIT experience.
3-3:30 p.m. — Class Picture (Man on a Bench Park)

Dusk — Outdoor Movie (Farr Field)
First year students voted on the movie choice during orientation sessions. The chosen movie will be announced on Office of Campus Life's Facebook page.
Saturday, August 23, 2014
8-11 a.m. — First-Year Experience Service Event (MTCC Center Court)
This mandatory program for first-year students introduces participants to the Chicago area by having them volunteer during their first weekend in college. Students, along with their peer mentors, will explore different sites while giving back to our community.
11:30 a.m. — Pancakes with the President (The Commons)
Bring an appetite and chow down at a pancake feast with IIT President John Anderson and Student Government Association President Akinade Aderele. Dining plans will be active; students and guests without plans are also welcome to join us.
1 p.m. — Bog Open (Hermann Hall Bog)
Free bowling, pool, and cupcake decorating.
6 p.m. — Taste of the Quad (The Quad)
Lively games, entertainment, and free food at the kickoff for Fraternity and Sorority Recruitment.
Sunday, August 24, 2014 (Red Out Sunday)
8:30 a.m — Morning Run with Cross Country (McCormick Tribune Campus Center South Lawn)
Get to know the Illinois Tech Cross Country team. They will host a run around the Bridgeport area to help students get acquainted with the neighborhood.
11 a.m. — Red Out Pep Rally
A chance to show #IITHawkPride! Official kick-off to the school year with Illinios Tech athletes.
Noon-4 p.m. — A variety of fun sports from a soccer scrimmage, to Ultimate Frisbee and Disc Golf, to dodgeball.
9 p.m. — Residence Hall Floor Meetings (Various Residence Halls)
Every student living in a residence hall must attend this important discussion. You'll learn about the residence hall community and get connected to some great resources.
See the complete schedule of Welcome Week activities at Office of Campus Life.
Email campus.life@iit.edu for any questions about Welcome Week.