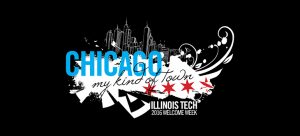 The Welcome Week schedule of events for this weekend (August 12-14) is below:
Friday, August 12:
Convocation, Hermann Hall Auditorium, 4 p.m. (mandatory)
Welcome Back BBQ, Gunsaulus Field (students) or The BOG in Hermann Hall (faculty/staff), 4:30 p.m.
Playfair, in front of Carr Chapel, 5:30 p.m. (mandatory)
Saturday, August 13:
Discovering Leadership and the Leadership Academy, The McCormick Tribune Campus Center (MTCC) Ballroom, 11 a.m.
Public Safety Meet & Greet (with Student Government Association), MTCC South Lawn, 1:30 p.m.
Scarlet Hawk Service, MTCC Bridge, 3 p.m.
Hangout in The BOG, featuring Mentalist Christopher Carter, 5 p.m. (performer at 7 p.m.)
Sunday, August 14:
Pokemon Go Meet Up, MTCC South Lawn, 1 p.m.
Shopping Shuttles, MTCC South Lawn, 1–3 p.m.
Safe on Campus, MTCC Auditorium, 3 p.m. (RSVP here)
This year, Welcome Week will run from Friday, August 12 through Sunday, August 21, 2016 on the Mies (Main) Campus, and encompass a variety of events. Click here for the most up-to-date schedule. View a Welcome Week flyer here: Welcome Week Flyer.
If you have questions regarding a specific event, or for a printable version of the schedule, contact Alex Carlson at acarlso3@iit.edu.