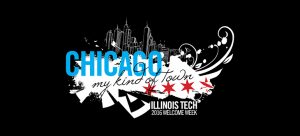 Please join us for the following Welcome Week events today (Monday, August 15):
Becoming a Global Upstander, The McCormick Tribune Campus Center (MTCC) Ballroom, Noon
The Mulligan, presented by 33rd Street Productions, Hermann Hall Ballroom, 7 p.m.
Cricket, Recreation Field, 7 p.m.
Soccer, Stuart Field, 8 p.m.
Startup Roulette Game Show (with Collegiate Entrepreneurs Organization), Perlstein Hall Auditorium, 8 p.m.
This year, Welcome Week runs from August 12 through Sunday, August 21, 2016 on the Mies (Main) Campus, and encompasses a variety of events. Click here for the most up-to-date schedule. View a Welcome Week flyer here: Welcome Week Flyer.
If you have questions regarding a specific event, or for a printable version of the schedule, contact Alex Carlson at acarlso3@iit.edu.