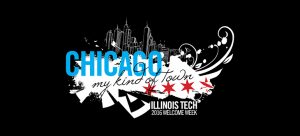 Please join us for the following Welcome Week events today (Thursday, August 18):
Vedic Vision Society Welcome Lunch, Siegel Field, noon
Pumpkin Launch 101 with BioMedical Engineering Society, Wishnick Hall Auditorium, 2 p.m.
Civility Campaign, The McCormick Tribune Campus Center (MTCC) Bridge, noon
Graduate Student Career Camp, Hermann Hall Expo, 2 p.m.
Surviving and Thriving, Hermann Hall Ballroom, 3 p.m. (mandatory)
Game Night with InterVarsity Christian Fellowship, MTCC Welcome Center, 5 p.m.
Sex Signals, Hermann Hall Auditorium, 7 p.m. (mandatory)
This year, Welcome Week will run from August 12 through Sunday, August 21, 2016 on the Mies (Main) Campus, and encompass a variety of events. Click here for the most up-to-date schedule. View a Welcome Week flyer here: Welcome Week Flyer.
If you have questions regarding a specific event, or for a printable version of the schedule, contact Alex Carlson at acarlso3@iit.edu.