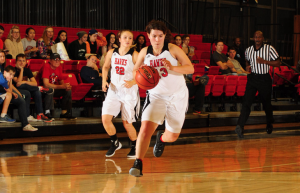 The Illinois Tech Women's Basketball team traveled to Aurora University on November 30 for a contest against the AU Spartans. The Scarlet Hawks' slow start led to an 80-59 defeat.
How it Happened
The Aurora offense was effective in the first quarter, shooting 44.4% from the floor and earning 10 shots from the free-throw line. AU led Illinois Tech 26-11 at the close of the first quarter.
Over the next two quarters, Illinois Tech would play the Spartans even. Kaylee Wicka tallied 12 points in the second and Venika Jarvis followed with seven points of her own in the third to keep the Scarlet Hawks within striking distance.
Three shots from beyond the arc from Alyssa Brems allowed Aurora to pull away in the fourth quarter, outscoring the Hawks 80-59 in the period.
Scarlet Hawk Standouts
Wicka tallied a season-high 27 points and led the Scarlet Hawks in rebounds (nine) and blocked shots (three). Seven of her 27 points came from the free throw line (seven-of-nine).
Jarvis put together one of the best games of her career off the bench. She scored a career-high 12 points to go along with eight rebounds and three steals.
Josie Flesvig also had a career day off the bench, tallying career highs in points (nine) and rebounds (eight).
Stats to Know
Despite Aurora's 10 first quarter free throw attempts, Illinois Tech attempted 28 free throws compared to Aurora's 18.
Rebounds were near even, with Aurora holding a 46-44 advantage.
The 59 points are a season-high for the Scarlet Hawks.
Up Next
The Scarlet Hawks will travel to Lincoln Christian on Saturday, December 10 for a 1 p.m. contest.