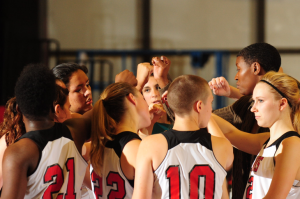 The Illinois Tech Women's Basketball team played in the third-place game of the Anderson University Tip-Off Tournament on November 19. The Scarlet Hawks fell to the Ladies 92-41.
How it Happened
The offense struggled in the first quarter. A field goal from Madison Davis and two free throws from Kaylee Wicka was all the Hawks could muster as Illinois Tech trailed 28-4 after one.
A flipped switch for the Scarlet Hawks offense in the second quarter, as the team scored 18 points. Wicka scored 10 of the 18 and April Wanagas added in four points off the bench as Illinois Tech had its best offensive quarter of the season to date. Kenyon held a 48-22 lead at the intermission.
Wicka would add seven more points during a 10-point third quarter for the Scarlet Hawks. Kenyon managed to pour in 15.
In the fourth quarter, Lindsay Zasadinski scored five points for the Scarlet Hawks, but a strong offensive output from Kenyon led the Ladies to a 92-41 win.
Scarlet Hawk Standouts
Wicka led the way with 21 points, five rebounds, one steal, and one block. Twenty-one points is the most scored by an Illinois Tech player since Adrianna Maron scored 25 in a loss to Lincoln Christian on January 27, 2015.
Venika Jarvis pulled down a game-high nine rebounds off the bench.
Stats to Know
Illinois Tech shot a better percentage from the free throw line than the opponent for the second game in a row. The Scarlet Hawks were 12-of-17 (70.6%) from the charity stripe while Kenyon was 14-of-20 (70.0%).
The Scarlet Hawks out rebounded Kenyon 44-41.
Kenyon shot 51.6% compared to Illinois Tech's 21.3%.
Up Next
Illinois Tech's home opener is on Monday, November 28 against Lake Forest College at 7 p.m. Live audio, video, and stats from the Keating Sports Center will be available.