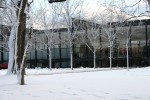 Like many other Chicago area universities and businesses, the challenges of Winter 2013-2014 have placed extraordinary demands on the people and resources that are focused on maintaining safe and accessible walkways and parking areas at IIT.
Eight dedicated members of our Facilities team have already worked approximately 1,100 more overtime hours thus far compared to last December and January. In addition to clearing snow, they have spread more than 50 tons of salt, 29 tons more than were necessary for all of last year.
We are well prepared for whatever else comes with the remainder of this winter, and we will, consistent with our standard policies and practice, continue to plow, shovel and salt as conditions warrant. In addition, we could also use your help at  times in ensuring that we are aware of any significant safety issues on entryways, walkways and parking surfaces.  If you encounter hazardous conditions on the IIT campus call Public Safety 312.808.6300 or the Facilities Service Desk  312.567.3320 and they will be certain to transmit the information to our Facilities team.