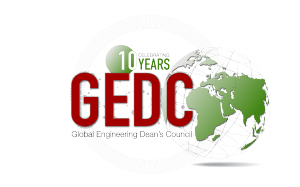 Wanger Institute for Sustainable Energy Research (WISER) and Armour College of Engineering co-hosted the Global Engineering Deans Council (GEDC) Carbon-Free Innovation Network (CaFIN) Workshop at Illinois Tech on May 14. The workshop was organized by Hamid Arastoopour (M.S. GE '75, Ph.D. '78), WISER director and Linden Professor of Engineering, on behalf of the GEDC-CaFIN Committee, under the leadership of Natacha DePaola, dean of Armour College and current GEDC chair.
Conceived during the GEDC 2015 meeting in Adelaide, Australia, CaFin was designed to bring together academics, industry, and government officials to explore challenges to reducing carbon emissions, create pathways to a carbon-neutral economy, and better incorporate green technology approaches into engineering education. During the 2016 CaFIN inaugural meeting at McMaster University, a declaration was signed between the engineering deans of Illinois Institute of Technology, McMaster University, the University of Hong Kong, the University of Notre Dame, Seoul National University, and GEDC leadership to pledge their commitment to developing carbon-neutral innovations, spurring local and national economies as a result and improving the well-being of nations.
The 2018 CaFIN workshop at Illinois Tech continues the development and expansion of the CaFIN initiative.