Women, especially in STEAM (Science, Technology, Engineering, Arts, and Math) fields, are notoriously underrepresented in Wikipedia, the most used information website. Wikipedia edit-a-thons are events where people come together to improve Wikipedia entries. Join us in celebration of Women's History Month as we work to improve entries for women notable for their work in STEAM fields.
Galvin Librarians have curated resources you can use to improve articles by adding information and citations. We will send resources and training videos out to those who RSVP and will be available via chat during the event to help you make citation changes.
RSVP: http://bit.ly/wikiIIT
WHEN: Thursday, March 26, 2020, from 1 –3 p.m.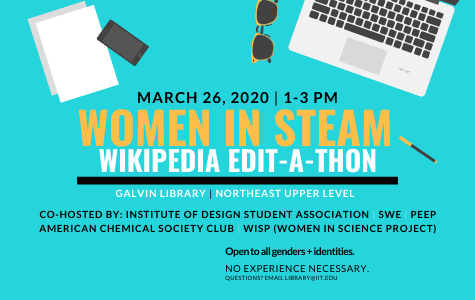 WHERE: The northeast upper-level of the Galvin Library.
PREPARE: BEFORE THE EVENT—Sign up for a Wikipedia account. This is not required but is recommended.
BRING: A device, such as a laptop, to edit articles from. Current students, faculty, and staff may also check out a laptop from our Circulation Desk.
This event is co-hosted by: Institute of Design Student Association, SWE, PEEP, American Chemical Society Club, and WiSP (Women in Science Project)
Questions? Contact us at library@iit.edu.