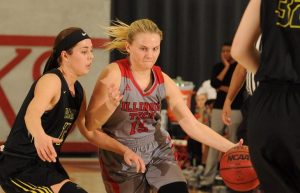 The Illinois Tech Women's Basketball team traveled to Michigan on January 22 to oppose Alma College. Illinois Tech was defeated 76-37.
How it Happened
The first quarter was tightly contested, as the Scarlet Hawks trailed 8-7 after the first. Alma shot just 12.5% (3-for-24) in the quarter.
The second and third quarters were strong for Alma, as the hosts scored 53 points over the 20 minutes.
In the fourth quarter, Illinois Tech's offense found a groove. The Scarlet Hawks scored 18 points, six of which came courtesy of Kaylee Wicka.
Scarlet Hawk Standouts
Wicka led the Scarlet Hawks with 11 points and six rebounds. She also tallied two blocks.
Madison Davis was also in double-digits with 10 points.
Erin Efimoff netted seven points to go along with four rebounds and two blocks.
Up Next
Illinois Tech hosts Wheaton College on Wednesday, January 25 at 7 p.m. Live audio, video, and stats will be provided. The live audio will be powered by Illinois Media School.