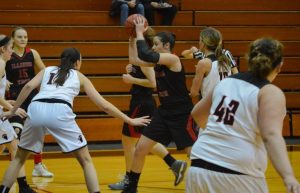 The Illinois Tech Women's Basketball team traveled north to Maranatha Baptist University on January 25 to oppose the Sabercats. Illinois Tech was defeated 70-39.
How it Happened
Illinois Tech stayed close early on, trailing by just two (20-18) after 10 minutes.
In the second quarter, Illinois Tech's offense slowed down, amassing just nine points, but Illinois Tech managed to outshoot the Sabercats 34.8% to 31.0% in the half and trailed 33-27 at the intermission.
The Sabercats started to connect in the third quarter, scoring 26 points while holding Illinois Tech to just eight. In the fourth, the Scarlet Hawks continued to struggle on offense, managing just four points while holding the Sabercats to 11.
Scarlet Hawk Standouts
Shannon O'Donnell led the Scarlet Hawks with 16 points, going 10-of-12 from the free throw line. She also had nine rebounds and three steals.
Erin Efimoff had seven points and three boards.
Madison Davis drained two threes and tallied six points. She also had six rebounds.
Stats to Know
MBU outshot Illinois Tech 35.9% to 22.6%.
The Sabercats out rebounded the Hawks 54-43.
Up Next
Illinois Tech is back in action Friday, January 26 taking on the Blue Angels of Mount Mary University in Milwaukee. Game time is set for 6 p.m.