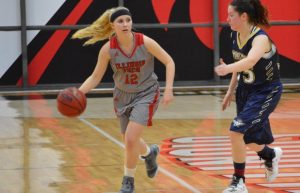 The Illinois Tech Women's Basketball team hosted the Mount Mary University Blue Angels February 21 at the Keating Sports Center for Senior Night. The Hawks mounted an 11-point comeback in the fourth quarter but were not able to hold on as the Blue Angels came out on top 55-54.
How It Happened
It was a back-and-forth first quarter, as both teams traded baskets up until the two minute mark when the Blue Angels took an 11-6 lead. Two consecutive baskets by Kaylee Wicka cut down the deficit as the Hawks trailed 13-12 at the end of the first.
The second quarter saw more of the same, but this time around, Illinois Tech was able to build a 24-16 lead with 2:24 left in the half. The Angels, lead by Jess Runge, climbed back into the game, trailing only by two (26-24) at halftime.
The Hawks started the second half flat-footed and the Blue Angels hit from downtown. Mount Mary's Brooke Uebersetzig went four-of-four (12 points) from three-point range to give the Blue Angels a 49-38 lead at the end of the third.
Illinois Tech turned up the defense in the fourth quarter and started to heat up from the field, cutting the lead down to one (49-48) with 6:24 left in the game. Two free throws by Wicka gave the Hawks a one point lead with 1:57 left, but the Angels regained the lead with 23 seconds left on the clock and ultimately claimed victory.
Scarlet Hawk Standouts
Wicka led all scorers with 22 points (seven-of-19) and had a double-double. She grabbed 12 rebounds to go along with two steals and two assists.
Senior Venika Jarvis had a game-high 13 rebounds, scored eight points (four-of-seven), and tallied two blocks.
Raiven Johnson had an effective game from the field going four-of-six for nine points. She packed the stat sheet, grabbing five rebounds and tallying four assists.
Senior April Wanagas played 23 minutes, scoring seven points and grabbing three rebounds.
Stats to Know
The Hawks shot a better percentage from the field, going 20-of-63 (31.7%) compared to the Blue Angels' 17-of-57 (29.8%).
Illinois Tech grabbed 13 more rebounds (51) than Mount Mary (38), leading to 13 second chance points (10 more than the Blue Angels' 3).
The Hawks shot 64.3% from the charity stripe (nine-of-14). The Angels shot an effective 77.8% (14-of-18).
Up Next
The Scarlet Hawks will play the final game of the season on Wednesday, February 23 versus Lincoln Christian at the Keating Sports Center. Tip-off is set for 6 p.m. Live video and stats will be available; live audio will be provided by the Illinois Media School.