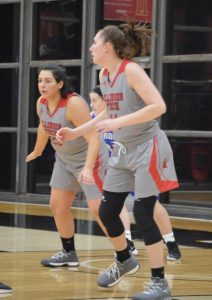 The Illinois Tech Women's Basketball team traveled to Adrian to take on the Bulldogs on January 13, fighting hard but eventually falling with a score of 84-73.
How it Happened
Scarlet Hawk Standouts
O'Donnell led the Hawks with a double-double of 32 points and 10 rebounds. O'Donnell also had five assists and three steals.
Efimoff scored 20 points and pulled down eight rebounds. She added three steals and an assist.
Davis also scored in double-digits with six assists and two steals.
Stats to Know
Rebounds were favor of Adrian 49-34.
Adrian also led in assists (18-13).
Illinois Tech led 20-19 in points off turnovers.
Points in the paint were tied at 32.
Up Next
Illinois Tech will continue the road trip in Michigan against Grace Bible on Tuesday, January 16 at 4 p.m.