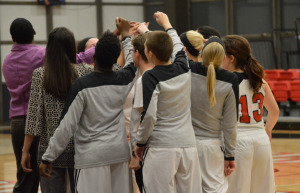 The Illinois Tech Women's Basketball team opened the season at the Anderson University tip-off tournament on November 18. The Scarlet Hawks fell to the Ravens 70-35.
How it Happened
It was a slow start for the Illinois Tech offense in the first quarter, as the team managed just five points. Anderson went on an 8-0 run after an and-one from Kaylee Wicka and led 16-5 after 10 minutes.
The offensive woes continued for Illinois Tech in the second quarter, as Anderson extended its lead to 35-14 at the intermission.
In the third quarter, the Scarlet Hawks managed to put 10 points on the board, highlighted by an and-one play from Madison Davis. Illinois Tech trailed 52-24 at the close of the third quarter.
The Scarlet Hawks had its most successful quarter in the fourth, scoring 11 points. Davis had five points to lead the Hawks in the quarter.
Scarlet Hawk Standouts
Davis led the Scarlet Hawks in scoring in her first collegiate game, dropping 13 points. Six of those 13 came from beyond the arc.
Wicka tallied 11 points and six rebounds to go along with a game-high three blocked shots.
Erin Efimoff led Illinois Tech in minutes (32) and rebounds (eight) in her first college game. She also led the team with two steals and scored four points.
Stats to Know
Illinois Tech held Anderson to 38.1% shooting. The Scarlet Hawks shot 22.0%.
The Scarlet Hawks were seven-of-10 (70%) from the free throw line. AU was 13-of-22 (59.1%).
Illinois Tech blocked four shots compared to Anderson's two.