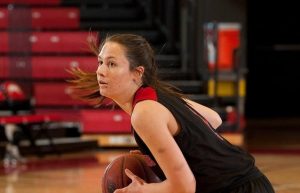 The Illinois Tech Women's Basketball team hosted USCAA opponent Andrews University on February 5 in Keating Sports Center. Playing at home for the first time in 29 days, the Scarlet Hawks started fast but couldn't hold down the Cardinals, falling 62-58.
How it Happened
Each team's first three possessions were empty. Eight first-quarter points from Shannon O'Donnell helped changed the tide, as her scoring late in the quarter helped Illinois Tech establish the lead. The Scarlet Hawks led the final 3:01 of the first and took a 16-11 lead into the quarter break, capped off by a running O'Donnell lay-up as time expired.
A Madison Davis three-pointer out of the break gave Illinois Tech its largest lead of the night at eight (19-11). The Andrews duo of Kia Williams (15 points, 10 rebounds, seven assists, six steals) and Jayde Broussard (31 points, 18 rebounds) helped the Cardinals slowly chip away at the lead. To close out the half, Andrews' Hanna Sabangan (10 points) scored five points in the final 46 seconds (including a three-pointer as time expired) to even up the score 26-26 at halftime.
Andrews came out of halftime aggressive, scoring the first six points of the third quarter. A couple of three pointers by Davis and Raiven Johnson helped Illinois Tech regain the lead for a brief time. The Cardinals ended the quarter on an 8-2 run to hold a 42-38 lead.
In the fourth quarter, Andrews saw its lead increase to as high as 11 (51-40, 6:27 left) before the Scarlet Hawks began to reel the Cardinals back in. After quiet second and third quarters, O'Donnell erupted for eight of Illinois Tech's next 11 points.
With Illinois Tech down 56-51 and 33 seconds remaining, O'Donnell's defense forced an Andrews turnover. On the ensuing possession, she found Davis on an inbounds pass for a three-pointer to cut the lead to two. After two missed free throws by Williams, the Cardinals fouled Erin Nelson, who calmly sunk her two free throws to tie the score at 56 with 25 seconds left.
Over the next 13 seconds, Andrews would attempt six free throws, draining four of them to go back up 60-56. O'Donnell would get fouled driving to the rim and make two more foul shots to pull Illinois Tech back to within two, but the Hawks were unable to force a turnover on the ensuing inbounds pass. Two Olivia Woodard free throws for Andrews sealed the deal.
How it Happened
Playing all 40 minutes for the fifth time in her last six games, O'Donnell went for 22 points and four assists. She also shot over 50% (nine-of-17, 52.9%) for the third game in a row.
Erin Efimoff had 14 points on seven-of-11 (63.6%) shooting to go along with four rebounds.
Davis had 17 points, five rebounds, and four steals.
Stats to Know
Illinois Tech was outshot by the Cardinals 48.1% to 40.4%, but attempted 57 shots compared to AU's 52.
Rebounding (41-27) and free throw attempts (19-12) were huge advantages for the Cardinals.
Andrews turned the ball over 22 times compared to 15 for Illinois Tech.
Up Next
The Scarlet Hawks will host RMU-Springfield on Thursday, February 8 at 5:30 p.m. in Keating Sports Center. Live audio, video, and stats will be available. The live audio will be powered by Illinois Media School.