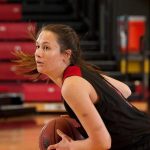 The Illinois Tech Women's Basketball team hit the road for the second game of the season on November 18, traveling to Lakeland University to oppose a future Northern Athletics Collegiate conference opponent. The Scarlet Hawks fell to the Muskies 77-44.
How it Happened
The Scarlet Hawks shot a higher percentage than Lakeland over the first 10 minutes (40% to 33.3%), but the Muskies took great care of the basketball. The hosts turned the ball over just once, helping to build a 21-12 lead after one.
Illinois Tech held Lakeland without a point in the second quarter until a layup at the 5:10 mark. Despite the strong defensive stand, the Scarlet Hawks were unable to cut into the lead and trailed 32-21 at halftime.
Erin Efimoff carried the Hawks offense in the third with nine points on three-of-five shooting, but Lakeland opened up a 24-point quarter of its own to build the lead.
The hosts were able to build on the lead in the fourth quarter in large part due to Illinois Tech's eight turnovers.
Scarlet Hawk Standouts
Efimoff controlled the paint, leading the team with 15 points and six rebounds.
Madison Davis scored 11 points, was three-of-seven on three-pointers, and pulled down five rebounds off the bench.
Shannon O'Donnell had seven points and eight rebounds.
Stats to Know
For the second straight game, the sheer number of shots was the deciding factor. While Lakeland shot just narrowly better than Illinois Tech (36.1% compared to 35.6%), the Muskies attempted 38 more shots (83-45).
The Scarlet Hawks committed 34 turnovers compared to Illinois Tech's 15.
Lakeland outrebounded the Scarlet Hawks 54-36.
Up Next
Illinois Tech hosts another future NACC opponent, Milwaukee School of Engineering, on Tuesday, November 21 at 7 p.m. Live audio, video, and stats will be available. The live audio will be powered by Illinois Media School.