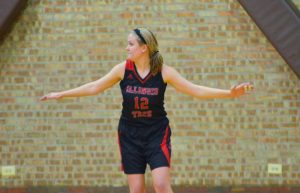 The Illinois Tech Women's Basketball team traveled east on January 31 to oppose the Belles of St. Mary's College. A slow start by the Hawks was too tough to overcome as the Bells downed Illinois Tech 73-42.
How it Happened
The Belles used a 17-0 run in the first quarter to seize control of the contest. Erin Maloney netted the first five points of the contest for the hosts as the Belles held a 28-8 advantage after the first quarter.
The Illinois Tech defense was able to tighten up in the second quarter, holding the Belles to just 10 points on 25.0% shooting.
In the third quarter, the St. Mary's offense caught fire again. SMC shot 47.6% in the quarter and started the half on an 18-2 run.
Illinois Tech had its best offensive quarter of the game in the fourth with 13 points, five of which were scored by Shannon O'Donnell.
Scarlet Hawk Standouts
O'Donnell had her sixth 20-point game of the season, this time scoring 21 points to go along with five rebounds. She shot over 50% at nine-of-16 and played all 40 minutes.
Erin Efimoff also logged 40 minutes and finished with eight points and four rebounds.
Erin Nelson had six points and four rebounds off the bench.
Up Next
Illinois Tech returns home on Monday, February 5 after a long streak of seven consecutive road games. The Scarlet Hawks will host Andrews University at 7 p.m. Live audio, video, and stats will be available. The live audio will be powered by Illinois Media School.