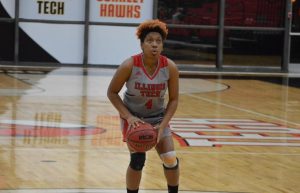 The Illinois Tech Women's Basketball team played host to the Carroll University Pioneers on December 12. Illinois Tech fell 86-39 to the CCIW school. On December 13 the visiting Aurora Spartans defeated the Scarlet Hawks 95-38.
How it Happened – Carroll
Carroll opened up a 22-9 lead in the first quarter behind some solid defense, holding Illinois Tech to a 28.6% field goal percentage while shooting 50% themselves.
In the second quarter, Carroll's Rachel Van Sulys gave the team a spark off the bench. She scored nine points in just four minutes, helping extend the Pioneer advantage to 26 at halftime.
Illinois Tech had its best offensive quarter in the third. Shannon O'Donnell got to the rim at will, scoring seven points and pulling down three rebounds.
The offense struggled for Illinois Tech over the last 10 minutes, managing just four points as Carroll pulled away.
Scarlet Hawk Standouts
O'Donnell led the team with 13 points to go along with four rebounds and a team-high five assists.
Rochea Morley played well, tallying 10 points, two rebounds, and two steals.
Hailey Borowczyk had seven points and four rebounds off the bench.
Erin Nelson led Illinois Tech with seven boards.
How it Happened – Aurora 
Both teams started slow, missing shots on the first two possessions. Aurora's Adriana Ramirez and Julie Galauner quickly changed the pace of the game and led the Spartans to a 13-1 lead.  The Scarlet Hawks continued to struggle from the court and some key turnovers led to transition points for the Spartans. Aurora led 22-5 after one.
Madison Davis and Erin Efimoff made some early baskets to begin the second quarter for the Hawks to cut into the deficit. Davis scored six points in the quarter but the Spartans, paced by Alyssa Brems and her 17 first half points, extended the lead for Aurora. Illinois Tech trailed 46-17 at halftime.
Illinois Tech began the third quarter with more effort and Efimoff hit a couple early shots. Galauner continued to score for Aurora, however, and the Spartans kept up the defensive pressure. Ramirez and Brems also maintained a strong scoring output and the Spartans led big after three quarters.
The Hawks competed well in the fourth but could not muster much offense. The Spartans closed out the game with a final score of 95-38
Scarlet Hawk Standouts
Davis led the Hawks with nine points, two rebounds, one assist, and one steal.
O'Donnell had seven points and six rebounds plus one assist.
Efimoff scored seven points, had six rebounds, and added one assist.
Up Next
The Scarlet Hawks will travel to Daytona Beach, Florida, to face St. Vincent on Tuesday, December 19 at 10 a.m.