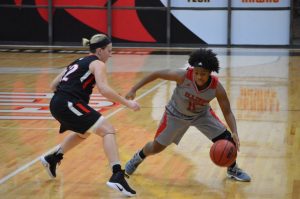 The Illinois Tech Women's Basketball team welcomed the University of Dallas to Keating Sports Center on November 25. The Crusaders emerged victorious over the Scarlet Hawks by a final score of 70-42.
How it Happened
Illinois Tech kept the game close in the first quarter, recovering quickly from a 7-0 deficit. Raiven Johnson scored six points in the first period and grabbed a key rebound as the Scarlet Hawks only trailed 18-13 after the first 10 minutes.
Madison Davis made two key three-pointers in the second quarter to keep the score close. The Scarlet Hawks used great rebounding and solid defense to close the gap to one point on two occasions, but a late run by Dallas left Illinois Tech trailing at the half 32-24.
Several turnovers and some missed shots early in the third quarter resulted in the deficit growing to 14 for Illinois Tech. Six turnovers in all plagued the Hawks during the period and Illinois Tech trailed 49-29 after three.
Davis and Shannon O'Donnell got going in the fourth, putting up 11 combined points, but the Crusaders continued their strong play in the paint and made free throws down the stretch. Dallas closed out the victory, posting 21 points in the fourth, and sealed the win 70-42.
Scarlet Hawk Standouts
Davis led the Scarlet Hawks with 14 points, five rebounds, and two steals.
O'Donnell had 13 points, five rebounds, five assists, and two steals while shooting 55 percent from the floor.
Johnson added six points plus two rebounds and a steal in 22 minutes.
Stats to Know
Illinois Tech shot 33.3% from the three-point line.
The Scarlet Hawks committed 26 turnovers compared to 19 for Dallas.
Dallas moves to 2-1 while Illinois Tech fell to 0-4.
Up Next
The Scarlet Hawks will travel in-state to River Forest to take on Dominican on Wednesday, November 29 at 7 p.m.