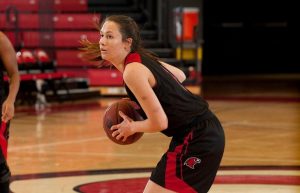 The Illinois Tech Women's Basketball team closed out the 2016-17 season on February 23, hosting the Red Lions of Lincoln Christian University. The Scarlet Hawks had a strong second half, but could not overcome a sluggish start, falling 43-36.
How it Happened
Illinois Tech's play was sloppy early on, as the team committed seven first quarter turnovers. LCU built up a 12-2 lead over the first seven minutes and led 17-6 after one.
In the second quarter, the Red Lions continued to add to the lead. Illinois Tech trailed 29-13 at halftime.
Illinois Tech turned the tables quickly in the third quarter. After LCU opened the half with a jump shot, the Scarlet Hawks went on a 10-0 run over the next 2:22. Illinois Tech managed to cut the lead down to six at one point and ended up trailing 38-29 after three.
Both teams struggled offensively in the fourth quarter. A Madison Davis jumper with 5:16 to go brought Illinois Tech to within three at 40-35, but that would be the last made field goal for the Hawks. Illinois Tech's defense stood strong and held the Red Lions scoreless over the final 2:58, but an Erin Efimoff free throw with 2:41 to play was the last point for either team in the contest.
Scarlet Hawk Standouts
Efimoff was strong off the bench, scoring all nine of her points in the second half. She also shot 50% (four-of-eight) from the floor.
Venika Jarvis (eight points, 11 rebounds, two steals) and Kaylee Wicka (seven points, 12 rebounds, three assists, three blocks) narrowly missed double-doubles.
Davis had seven points to go along with eight rebounds.
Stats to Know
The charity stripe was a determining factor in the matchup. Illinois Tech shot just 33.3% on nine-of-27 shooting, while the Red Lions were six-of-13 (46.2%).
The Scarlet Hawks out rebounded the Red Lions 48-40.
Illinois Tech committed 23 turnovers compared to LCU's 17.