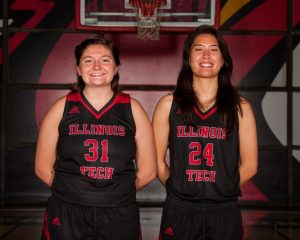 The Mount Mary Blue Angels defeated the Illinois Tech Scarlet Hawks 56-45 on Senior Day.
How it Happened
The score remained close for the first five minutes of play, as the Angels held a two-point lead. Erin Efimoff scored the first five points for the Scarlet Hawks and Illinois Tech's Madison Davis was able to hit a quick three-point shot and work the ball inside on consecutive possessions to grab a 13-11 lead. After tying the game, Mount Mary countered with five points in the last 90 seconds of the quarter to take an 18-13 lead into the second.
The Angels' Lucy Pavelko helped her team extend the lead to 14 within the first four minutes of the second quarter. Illinois Tech began the quarter 0-4 from the floor until Rochea Morley ended the scoring drought with a runner after six minutes.  That basket was followed by another after Davis made a great cut for a layup. Mount Mary continued to shoot three pointers, making six of them in the first half. The Angels held a 32-20 lead at the half.
Efimoff and Davis tried to keep the Scarlet Hawks close to begin the second half, matching the first few shots from Mount Mary. But Rae Grubbs and Becky Onan—the leading scorers for the Blue Angels—continued to keep the visitors up by double-digits. A late run by the Hawks left the score 45-35 in favor of Mount Mary after three quarters.
The Angels shot and made more three-point shots at the onset of the fourth quarter but the Scarlet Hawks did not go away. Illinois Tech cut the lead to nine within the first five minutes of the last period and hustled on defense. But turnovers cost the Hawks and the Angels proved to be too much. Mount Mary closed out the win 56-45.
Scarlet Hawk Standouts
Efimoff led all scorers with 19. She also had four rebounds, two steals, and two assists.
Davis just missed a double-double with 10 points, nine rebounds, and four assists.
Stats to Know
The Scarlet Hawks held a better shooting percentage (42.2% to 31.7%).
The rebound battle was close, with Mount Mary edging Illinois Tech 38-33.
Illinois Tech led in points from the paint 26-16.
The Scarlet Hawks committed too many turnovers (19-eight).
Up Next
The Scarlet Hawks will conclude the regular season on Wednesday, February 21 at home against Robert Morris-Springfield at 5:30 p.m.