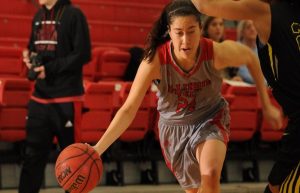 The Illinois Tech Women's Basketball team hosted Grace Bible College on February 7 at the Keating Sports Center in the front end of a Women's Basketball/Men's Volleyball home doubleheader. The Scarlet Hawks fought hard all game and outscored the Lady Tigers in the second half, but it wasn't enough as they fell 59-47.
How it Happened
The Hawks had a tough start to the game and found themselves down early, resulting in a 12-point lead (20-8) for the Tigers at the end of the first quarter. Erin Efimoff led the Hawks in scoring in the first (four) going one-of-two from the field, making both her free throws and grabbing two rebounds.
The Hawks picked up their level of play in the second quarter, but couldn't slow down forward Miranda Carlson as she went two-of-two from downtown. Guards Kaylee Wicka and Madison Davis both scored four points in the quarter, but they still trailed as the Tigers had a 36-19 halftime lead.
Illinois Tech started the second half four-of-five as they looked to cut down the deficit. Wicka played good defense, coming up with two steals, pushing the ball down the court, and getting several fast break points. She ended the third with five points and three rebounds as the Hawks outscored the Tigers 14-13, but still trailed 49-33.
The fourth was Illinois Tech's best quarter as they increased their pressure on defense, leading to a total of four steals and two blocks. The Hawks also hit the boards, coming up with six offensive rebounds, four of which went to senior Venika Jarvis. Jarvis and Efimoff both ended the quarter with five points as the Hawks once again outscored the Tigers, 14-10, but they lost 59-47.
Scarlet Hawk Standouts
Efimoff and Wicka both led the Hawks in points with 11 each. Efimoff also added six rebounds.
Wicka packed the stat sheet as she had game highs in three categories; 12 rebounds, three blocks, six steals, and three assists.
Jarvis also had a strong game, grabbing seven offensive rebounds (nine total) and tallying five points.
April Wanagas totaled nine points on 50% shooting (four-of-eight) in 18 minutes off the bench.
Stats to Know
The Tigers' 19 turnovers resulted in 11 points from the Hawks, compared to 11 turnovers by the Hawks that netted two points for the Tigers.
The Hawks went 10-of-14 (71.4%) from the charity stripe, compared to the Tigers who only shot 20% (one-of-five).
Both teams were aggressive on the boards, as the Tigers out rebounded the Hawks by nine, 53 to 44.
The Tigers shot 23-of-65 (35.4%) from the field, 10 percent better than the Hawks who only shot 25.4% (17-of-67).
Up Next
Illinois Tech will play its final road game of the season at Moody Bible on Tuesday, February 14 at 7 p.m.