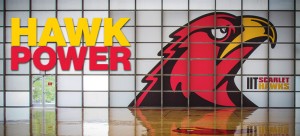 The Illinois Institute of Technology Women's Basketball team has released its 2016-17 schedule. It features a trip to the Anderson University Tournament and 10 games at the Keating Sports Center.
Illinois Tech will open up the regular season on the road for the first time in three years. After pre-season scrimmages at Rockford University (Saturday, November 5) and at home against St. Mary's College (Friday, November 11), the Scarlet Hawks will open the season at Principia College on Tuesday, November 15 at 6 p.m.
Three days later, the Hawks will head to Anderson, Ind. to compete in the Anderson University Tournament. Illinois Tech will oppose host Anderson on Friday, November 18. The home schedule opens up on Monday, November 28. Illinois Tech will oppose Lake Forest College for a 7 p.m. start at the Keating Sports Center.
Live audio, video, and statistics will be available for all home games. Live broadcasts will be powered by Illinois Media School.
View the full schedule here.