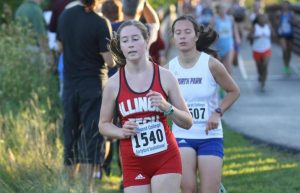 The Illinois Tech Women's Cross Country team competed at St. James Farm in Warrenville, Ill. in the Benedictine University Eagle Invite on October 7. Illinois Tech placed 16th in the 6k event.
Illinois Tech Participants
Notes from the Meet
Augustana won the event despite having just one top-ten finisher.
Ali Gutt of Harper College led all racers with a time of 22:45.0.
Up Next
The Scarlet Hawks will compete in UW-Oshkosh's AAE Invitational on Saturday, October 15 at 2:15 p.m.