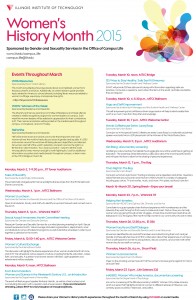 Join Gender and Sexuality Services and our campus partners for the following Women's History Month events in March:
Monday, March 23 and Wednesday, March 25, noon-1:40 p.m., McCormick Tribune Campus Center (MTCC) Bridge
Sisters on Campus Informational Table
Sponsored by Sisters on Campus
Stop by the table on the Bridge and learn more about this student organization at Illinois Institute of Technology, as well as details about upcoming meetings.
Monday, March 23, 12:45 p.m., MTCC Ballroom
Talk Time: Women Around the World
Sponsored by the International Center
Join the International Center for their monthly Talk Time event. This month's topic will be "Women Around the World" as the month of March is the celebration of Women's History. They will share and discuss the contributions of women throughout history, women's issues, traditions, and societal values from across the globe. Everyone is welcome. Light refreshments will be provided, but feel free to bring your lunch.
Monday, March 23, 7 p.m.
Helping the Homeless
Sponsored by MEDLIFE, Honors Medical Society, and Spiritual Life, Diversity, & Service
Come listen to a guest speaker share first-hand experience with homelessness and the adversity they went through to find a way to make ends meet. Find out how you can help women who are going through similar struggles. Food drive and tampon/pad drive will take place throughout the month to help the women in our community who are in need.
Thursday, March 26, 6 p.m., Stuart Field
Women's Lacrosse Game
Sponsored by Athletics
Cheer on the amazing women here at Illinois Tech in the home Women's Lacrosse game against St. Mary's at Stuart Field!
Friday, March 27, 5 p.m., Life Sciences, Room 232
MAKERS: Women Who Make America, documentary screening
Sponsored by the Department of Psychology
Join the Department of Psychology for a screening of the PBS documentary MAKERS: Women Who Make America, which is a series that highlights American women in different spheres of influence: war, comedy, space, business, Hollywood and politics.
Monday, March 30, 7 p.m., E1 Building, Room 119
Why Have Gender Roles, When You Can Have Pizza Rolls
Sponsored by GLAM
Come join GLAM and the Office of Gender and Sexuality Services as they close off Women's History Month and lead into Sexual Assault Awareness Month for a meeting and discussion about how we define "typical" gender roles and what they mean in society today. They will also be talking about how to enlighten people to this topic. Free snacks and drinks will be provided as well.
This event reflects the values expressed in IIT's Diversity Statement and is intended to promote diversity at IIT.