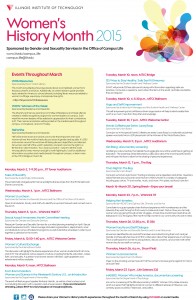 Join Gender and Sexuality Services and our campus partners for the following Women's History Month events the week of March 2:
Monday, March 2 from 7–9:30 p.m. in the IIT Tower Auditorium
Tales of DiversIITy
Sponsored by student Egle Malinauskaite
This emotionally-charged performance spotlights diverse stories from the IIT/VanderCook/Shimer community.
Wednesday, March 4 at 1 p.m. in the McCormick Tribune Campus Center (MTCC) Ballroom
Women's Luncheon
Sponsored by Gender and Sexuality Services and the Office of the Dean of Students
Open to all students, faculty, and staff who identify as women. Network and connect over a free lunch.
Thursday, March 5 at 1 p.m. in Wishnick Hall 117
Sexual Assault Awareness Month Committee Meeting
Sponsored by Gender and Sexuality Services
Please join Gender and Sexuality Services for our initial planning meeting for April's Sexual Assault Awareness Month. We encourage all student organizations, departments, and/or individuals to come with ideas for programs as well as tentative schedules to put together a calendar for the month.
Friday, March 6 from 12:50–1:40 p.m. in the MTCC Welcome Center
Women's Cultural Exchange
Sponsored by the International Center
This discussion will highlight the diverse experiences of our women students both at home and at IIT. We will explore various aspects of culture, including family life, education, career, faith, and sexuality. A question-and-answer session will follow. Light appetizers and refreshments will be available.
This event reflects the values expressed in IIT's Diversity Statement and is intended to promote diversity at IIT.