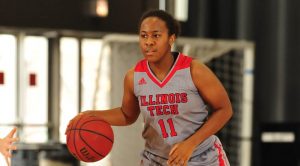 The Illinois Tech Women's Basketball team opened the 2018–19 schedule on November 13 with a non-conference contest against St. Mary's College of Indiana. The Belles jumped out to an early lead with strong defense as Illinois Tech struggled to score throughout the 66-33 loss.
How it Happened
Brook Rowan scored the first basket for Illinois Tech on a driving layup in the first quarter, the team's only made field goal of the period. The Belles defense forced nine Scarlet Hawk turnovers in the opening 10 minutes to jump out to a 19-4 lead.
While the Hawks managed to find some more points in the second quarter, SMC's three-point shooting was the story. The visitors shot it well down the stretch of the first half, making eight threes. Four of those came from Kelsie Biles, who did not miss from beyond the arc.
The Scarlet Hawks were led by returnee Shannon O'Donnell and newcomer Alyssa Hauert, who both sparked the team in different ways for the remainder of the game. As she did all of last season, O'Donnell managed to create for herself and her teammates with several drives to the basket. Hauert, playing her first collegiate contest, provided energy on the defensive end and with her rebounding.
The Belles were able to ice the game down the stretch thanks to some more sound defense. Senior guard Erin Maloney proved to be a tough test for Illinois Tech guards, as she led all players with six steals.
Scarlet Hawk Standouts
O'Donnell scored 11 points to lead the Scarlet Hawks. She also tallied four steals.
Raiven Johnson scored seven points and pulled down four rebounds as the team's starting point guard.
Hauert led all Scarlet Hawks with 11 rebounds, six of which came on the offensive end.
Up Next
Illinois Tech will host Adrian College on Saturday, November 17 at 1 p.m. Live audio, video, and stats will be available. The live audio will be powered by Illinois Media School.