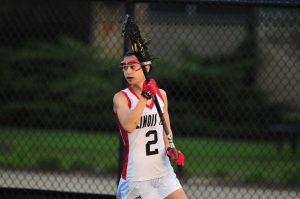 Through driving wind and rain, the Scarlet Hawks earned a victory in the final match of the 2017 season, downing the Buccaneers of Beloit College 13-6. Illinois Tech moved to 15-2 overall and 10-1 in Midwest Women's Lacrosse Conference play, setting program records for both while clinching a share of the MWLC title.
How it Happened
Isabella Rubin and the Scarlet Hawks started fast, scoring twice over the first three minutes. Madison Meredith scored shortly after to give the team a 3-0 advantage.
The two teams traded goals for the rest of the match, bringing the score to 6-3 at halftime.
To start the second half, the Scarlet Hawks tallied five goals over the first 10 minutes. Rubin tallied three of those, as Illinois Tech led 11-5 with 21:32 to play.
It was a quiet end of the match, but Sarah Maciorowski capped off her collegiate career with the match's final tally.
Scarlet Hawk Standouts
Rubin scored six times to lead all players.
Meredith scored four goals while adding one assist, four ground balls, and three draw controls.
Maciorowski scored two goals and had an assist in her final match.
DeLuca scored one goal and led the team with four draw controls.
Stats to Know
Illinois Tech outshot Beloit 35-12.
Illinois Tech led in draw controls 12-6.
Each team had 13 clears.