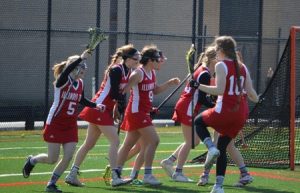 The Illinois Tech Women's Lacrosse team improved to a perfect 5-0 in Midwest Women's Lacrosse Conference play and 8-1 overall on March 26. The Scarlet Hawks downed Loras College 12-3, winning on the road in Iowa for the second straight day.
How it Happened
The Scarlet Hawk offense came out of the gates rolling, scoring four times over the first 10 minutes courtesy of four different players.
After a Duhawk tally at the 19:02 mark, Isabella Rubin connected with Alyssa DeLuca for the second time in the half to take a 5-1 lead with 15:11 left.
Loras scored once more before halftime as Illinois Tech lead 5-2 at intermission.
The Scarlet Hawks controlled the second half, starting with a Madison Meredith tally just 100 seconds in.
Loras netted a goal just 40 seconds later, but it would be the only tally the hosts would manage the rest of the way. Illinois Tech rattled off six unanswered goals over the final 23:28, with both DeLuca and Isabel Fitzpatrick-Meyers scoring twice over that span.
Scarlet Hawk Standouts
DeLuca led all players with four goals and a season-high seven draw controls.
Fitzpatrick-Meyers scored three times while adding five caused turnovers and four ground balls.
Both Meredith and Sarah Maciorowski scored twice and added an assist. Meredith also had three ground balls.
Rubin scored once, had a game-high three assists, recorded three ground balls, and chipped in three draw controls.
Abbie Reynolds made 10 saves and moved to 8-1 on the season.
Taylor Thompson led all players with six ground balls.
Stats to Know
Illinois Tech outshot the Duhawks 27-18.
Turnovers were close to even (28-27).
The Scarlet Hawks held the ground ball advantage 32-21.
Up Next
Illinois Tech will head north for a non-conference matchup on Thursday, March 30. The Scarlet Hawks will take on Carroll University in Wisconsin at 7 p.m.