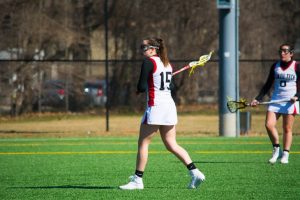 The Illinois Tech Women's Lacrosse team hosted Benedictine University on March 31 in a Midwest Women's Lacrosse Conference contest. The Scarlet Hawks moved to 3-3 overall and 2-1 in MWLC with a 13-3 win, knocking the Eagles down to 2-6 overall and 1-2 in the conference.
How it Happened
It did not take long for the Scarlet Hawks to get going offensively, scoring three times over the first six minutes of the contest. Shanie Scoles, Alyssa DeLuca, and Isabella Rubin all found the back of the net to put the Hawks up 3-0.
After a BenU goal with 22 minutes left in the half, Illinois Tech began its biggest run of the match. Madison Meredith and DeLuca added goals before Scoles netted two more, giving her a hat trick.
In the last two minutes of the half, Rubin and DeLuca scored to put the Hawks up an impressive 9-1 heading into halftime.
The second half was all DeLuca's, as the junior scored all of Illinois Tech's four goals.
BenU scored twice in the 30 minutes, including one with 22 seconds left to play.
Scarlet Hawk Standouts
DeLuca scored seven times on 14 shots (10 on net) while also corralling five draw controls.
Scoles posted the hat trick to go along with four ground balls, seven draw controls, an assist, and two caused turnovers.
Mallory Tognetti had an assist and team-high in ground balls (six) and caused turnovers (three).
Rubin found the back of the net twice.
Meredith had one goal, one assist, and three draw controls.
Stats to Know
The difference in both draw controls (15-2) and free position attempts (16-4) were in favor of Illinois Tech. Illinois Tech's FPA advantage led to four goals off those plays.
Benedictine was called for eight yellow cards on the day compared to just one for Illinois Tech.
Clearing was a problem for the Eagles, as the visitors were successful on just 10 of 22 attempts.
Up Next
The Scarlet Hawks will play a non-conference tilt on the road on Thursday, April 5 at 4 p.m. at Indiana Tech.