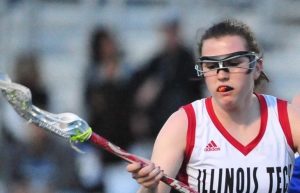 The Illinois Tech Women's Lacrosse team downed the Hanover College Panthers at Stuart Field 5-2 to open the season.
How it Happened
Hanover scored just five minutes into the match thanks to Kinna Laymon.
In the 15th minute, Alyssa DeLuca scored courtesy of Madison Meredith to even the tally at 1-1.
Tayla Davis of Hanover notched another goal for the Panthers with 11 minutes left in the first half. The two teams played even lacrosse the rest of the half, taking the score of 2-1 into halftime.
The Scarlet Hawks controlled the second half, sparked by Shanie Scoles. In her first collegiate match, Scoles scored twice in a span of just over a minute. Her second goal, which came courtesy of a Mallory Tognetti pass, put the Scarlet Hawks up 3-2.
With nine minutes left to go, Meredith combined with DeLuca for her first goal of the season to extend the lead.
Five minutes later, DeLuca scored her second goal and Tognetti tallied her second assist to round out Illinois Tech's scoring.
Scarlet Hawk Standouts
Scoles was great in her first match, scoring twice and leading the team with nine shots.
DeLuca picked up where she left off last season with two goals, two ground balls, two draw controls, and two caused turnovers. She also had one assist.
Meredith scored once and had one assist. She also had four ground balls and four draw controls.
Tognetti had two assists to go along with five ground balls.
Jennifer Young led the team with four caused turnovers.
Jessica Cochis earned the victory in net, making seven saves.
Stats to Know
Illinois Tech outdid Hanover 24-12 in shots and 23-18 in ground balls.
Hanover turned it over 28 times compared to Illinois Tech's 27.
Both teams were strong on clears. The Panthers were successful on 21-of-27 clearing attempts, while the Scarlet Hawks converted 23-of-26 tries.
Up Next
The Scarlet Hawks will host Kalamazoo College on Saturday, March 3 at 1 p.m. Live audio, video, and statistics will be available. The live audio will be powered by Illinois Media School.