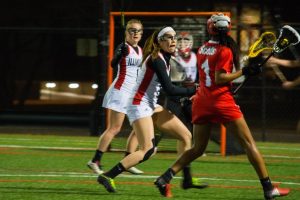 The Illinois Tech Women's Lacrosse team had one of its best wins of the season on April 17, downing a tough Aurora Spartans team 11-8 on the road. The win moved the Scarlet Hawks to 5-7 overall and 4-4 in the Midwest Women's Lacrosse Conference, while dropping AU to 8-5 overall and 5-2 in the league.
How it Happened
Alyssa DeLuca started the game off right, scoring 30 seconds into the match off a Madison Meredith assist.
The Scarlet Hawks responded after a 3-0 Aurora run, as Shanie Scoles scored twice to tie the score at three.
After goals from Scoles and DeLuca, the score was tied 5-5 in the final minute of the half. Isabella Rubin scored with six seconds left to give the Scarlet Hawks a halftime lead.
Aurora scored in the first minute of the second half, but the Scarlet Hawks would open the floodgates over the next 13 minutes. Jennifer Young scored three times to build a sizable advantage for Illinois Tech. Another Rubin goal mixed in gave the team its largest lead at 10-6.
The Spartans scored twice before the contest ended, but another Rubin goal on a free position shot iced the match and the victory.
Scarlet Hawk Standouts
Both Rubin (three goals, four ground balls, two draw controls) and Young (three goals, two ground balls, three caused turnovers) had hat tricks and season-high goal totals. Scoles (three goals, three assists, two ground balls, five draw controls, five caused turnovers) joined the hat trick party.
DeLuca scored twice and had six ground balls.
Meredith had four assists and tallied two ground balls, two draw controls, and two caused turnovers.
Jessica Cochis earned the win with five saves in net.
Stats to Know
Illinois Tech won despite being outshot 26-19 by Aurora.
Illinois Tech won the ground balls battle 26-24.
Up Next
Illinois Tech will play home matches on consecutive days this weekend, starting on Saturday, April 21 at 1 p.m. against Loras College. Live audio and video will be available for the day. The live audio will be powered by Illinois Media School.