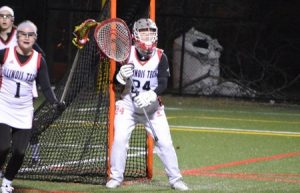 The Illinois Tech Women's Lacrosse team battled wet weather conditions on March 25 to defeat Wartburg College 9-5.
How it Happened
Illinois Tech started the match fast, scoring two goals in the first five minutes. Madison Meredith and Sarah Maciorowski each tallied to give the Scarlet Hawks a 2-0 lead. 
Wartburg held the Scarlet Hawks scoreless over the next 19 minutes, scoring three times to take a 3-2 lead.
The Hawks bounced back to finish the half on a strong note. Alyssa DeLuca and Isabella Rubin each scored twice over the half's final 6:05 as the team took a 6-4 lead into halftime. One of Rubin's tallies came at a player disadvantage.
Rubin continued the scoring shortly after halftime, scoring on Meredith's 19th assist of the season just 3:11 after halftime to take a 7-4 lead.
After a Wartburg goal just two minutes after Rubin's, the hosts were held scoreless for the rest of the match. Both Rubin and Maciorowski scored to wrap up the tallies for Illinois Tech.
Scarlet Hawk Standouts
Rubin led all players with four goals. She also tallied an assist and two ground balls.
DeLuca and Maciorowski each scored twice. Maciorowski also had two draw controls.
Abbie Reynolds made eight saves to move to 6-1 on the season.
Meredith tallied a goal and an assist.
Stats to Know
Illinois Tech outshot Warburg 18-11.
The Scarlet Hawks are one of four MLWC teams unbeaten left after the March 25 match (Tech, Beloit, Aurora, Concordia-Wisconsin).