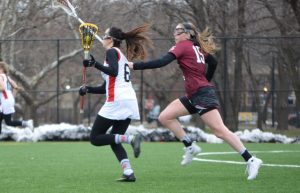 The Illinois Tech Women's Lacrosse team hosted the University of Dallas April 8 at Stuart Field. The Scarlet Hawks pounced on the Crusaders, quickly putting the game out reach and winning 18-1.
How it Happened
Four minutes in, Madison Meredith received a well-placed pass from Isabella Rubin to score the first goal of the game for the Hawks. 
The Scarlet Hawks quickly scored again, as Meredith returned the favor to Rubin as she slotted the ball past the goalie. The onslaught continued, as Isabel Fitzpatrick-Meyers and Alyssa DeLuca (two) added three more goals in the next five minutes to push the lead to 5-0.
Illinois Tech kept up the offensive pressure, scoring five additional goals in the final ten minutes of the first (10-0).
The offensive firepower would continue in the second half, as Meredith found the back of the net merely thirty seconds in.
Jennifer Young picked up the scoring, tallying a hat trick in just the first six minutes of the second half. She would end up scoring the last goal of the game to bring her game total to four.
DeLuca added two more down the stretch as the Hawks dominated from start to finish.
Scarlet Hawk Standouts
DeLuca led all scorers with five goals on eight shots. She also had four draw controls, caused five turnovers, and grabbed six ground balls.
Young had her best output of the season and career, scoring four goals on five shots. She also had three draw controls, caused four turnovers, and picked up five ground balls.
Rubin tallied a game-high three assists to go along with two goals, one caused turnover, and two ground balls.
Meredith packed the stat sheet, scoring three goals, adding two assists, five caused turnovers, three draw controls, and three ground balls.
Sarah Maciorowski also had a strong game, assisting on two goals, grabbing three ground balls, winning three draw controls, and scoring one goal.
Stats to Know
Illinois Tech tallied 36 shots compared to only 10 for Dallas.
The Hawks had the advantage in both draw controls (14) and ground balls (26) as the Crusaders tallied seven and 18 respectively.
The Crusaders (24) turned the ball over six more times than the Hawks (18).
Up Next
The Scarlet Hawks will play again on Thursday, April 13, as they travel to River Forest, Illinois, to face Midwest Women's Lacrosse Conference foe Concordia Chicago. The game is set to begin at 1 p.m. and live stats will be provided.