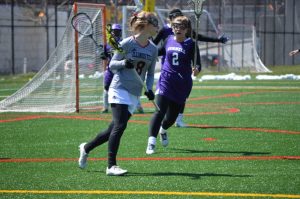 The Illinois Institute of Technology Women's Lacrosse team opened up Midwest Women's Lacrosse Conference play on March 4 at Monmouth College. Illinois Tech controlled the game from start to finish en route to a 19-5 victory.
Records
Illinois Tech (2-0, 1-0)
Monmouth (0-4, 0-2)
How it Happened
Scarlet Hawk Standouts
Maciorowski had one of the most productive afternoons of her career. The junior scored five times on five shot attempts, tied for the team lead with three assists, had one ground ball, and one draw control.
DeLuca led the team with six goals for the second straight game. She also added two ground balls.
Fitzpatrick-Meyers scored four times and added two ground balls.
Meredith scored twice, added three assists, and led the team with four draw controls.
Tognetti tallied two assists.
Rubin accompanied her goal with four ground balls, three draw controls, and a caused turnover.
Abbie Reynolds earned the victory in net to go 2-0 on the season.
Stats to Know
Illinois Tech outshot the Scots 36-14.
The Scarlet Hawks were a strong 21-of-24 on clears, while Monmouth was 12-of-22.
Illinois Tech won the battle in ground balls 18-9.
Up Next
Illinois Tech will take its talents to the state of Michigan for a mid-week match with Alma College. The Scarlet Hawks will play at Alma on Tuesday, March 7 at 4 p.m.