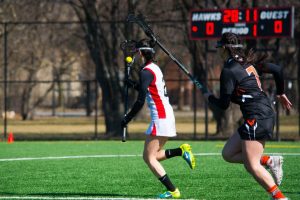 The Illinois Tech Women's Lacrosse team traveled to Cornell College in Iowa on April 14 to oppose an improved Rams team. Cornell (6-5, 4-3 MWLC) won the Midwest Women's Lacrosse Conference contest over the Scarlet Hawks (4-7, 3-4 MWLC) 16-4.
How it Happened
After Cornell scored in the first minute of the match, Illinois Tech quickly responded with a Jennifer Young goal to even the score 1-1.
The Rams opened the floodgates down the stretch of the first half, embarking on an 8-0 run before Shanie Scoles stopped the rally on a Young assist with 6:46 left in the half. Cornell went into intermission with a 10-2 lead after another late tally.
Cornell extended its lead by three more goals before Isabella Rubin scored the first of two second half tallies with 18:03 left.
After another trifecta for the Rams, Rubin once again silenced a Cornell run. She scored on a man-up, free position shot with 2:27 left to play to wrap up the match's scoring.
Scarlet Hawk Standouts
Rubin had her third multi-goal game of the season.
Young was solid with one goal and one assist.
Scoles had a goal, three ground balls, and five draw controls.
Caitlyn Kenneally made nine saves during her first collegiate action in net.
Stats to Know
Ground balls were hard to come by, with Cornell winning the battle 28-13.
Illinois Tech won in draw controls 12-9, but clearing was a problem area. Cornell was an astounding 19-for-20 compared to Illinois Tech's 10-of-17.
The Scarlet Hawks were 0-of-7 on free position attempts.
Up Next
The Scarlet Hawks will play at Aurora University on Tuesday, April 17 at 7 p.m. in another MWLC contest.