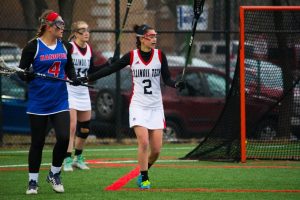 The Illinois Tech Women's Lacrosse team played a key conference contest against MWLC foe Loras College on April 21. After falling behind 3-0, the Scarlet Hawks (6-7, 5-4 MWLC) eventually overwhelmed the Duhawks (6-7, 4-4 MWLC) 16-9. The following day, they downed the Wartburg College Knights (5-8, 2-6) 12-4 on Christian Jones' Senior Day at Stuart Field.
How it Happened – Loras 
Loras scored three times over the first eight minutes.
It didn't take long for the Scarlet Hawks to flip the script. Jennifer Young, Shanie Scoles, and Alyssa DeLuca scored three of the match's next four goals to pull to within one at 4-3.
After another Loras goal by Nia Stompanato, Scoles went on a run of her own to take Illinois Tech's first lead. The freshman scored four straight times, the last of which was assisted by Isabella Rubin, to build a 6-5 advantage.
Rubin closed out the half by finding the back of the next off of a DeLuca pass, giving the Scarlet Hawks a 7-5 halftime lead.
DeLuca put Illinois Tech on the second half board just over two minutes in on a Marina Eraas assist.
After the DeLuca tally, Illinois Tech scored four of the next six goals to build its lead to five (12-7). Young scored two of the four goals in this span.
To close out the match, DeLuca scored twice, including the final goal with 1:25 to play, to ice the victory.
Scarlet Hawk Standouts – Loras 
Scoles had a team-high six goals, two assists, and a season-high 12 draw controls.
DeLuca had four goals, two assists, and three each of draw controls, caused turnovers, and ground balls.
Young had a career-high four goals and one assist.
Rubin and Madison Meredith had one goal and one assist each.
Eraas had her first assist of the season.
Jessica Cochis earned her fifth win of the season in net.
Stats to Know – Loras 
Illinois Tech outshot the Duhawks 34-24.
It was a game of few ground balls, with Loras winning the battle 23-13.
Illinois Tech dominated 19-8 on the draw.
How it Happened – Wartburg 
After 10 minutes of goalless lacrosse, the Knights' Alex Pollock struck first.
Despite allowing the match's first goal, the Scarlet Hawks tallied the next six points, with DeLuca and Meredith combining for four of those goals.
Scoles scored her second goal of the half just before intermission to answer a 2-0 Wartburg run, giving the Scarlet Hawks a 7-3 halftime advantage.
Illinois Tech shutout the Knights for the first 29:55 of the first half thanks to 11 second half saves from Cochis in net. This, combined with four more Scarlet Hawk goals (two from Scoles) allowed Illinois Tech to coast to the victory.
Scarlet Hawk Standouts – Wartburg 
Cochis' net play was outstanding. She stopped 12 total shots while allowing just four goals, leading to a .667 save percentage. The Pennsylvania native moved to 6-3 on the season with the win.
Scoles led the team in goals (four) and draw controls (eight).
Meredith (three goals, two assists, two caused turnovers) and DeLuca (three goals, three ground balls) each had hat tricks.
Rubin tallied a goal on two shots.
Young caused five turnovers and picked up four ground balls to lead Illinois Tech in both categories.
Jones caused a turnover on her Senior Day.
Stats to Know – Wartburg
Illinois Tech narrowly outshot the Knights 22-21.
Warburg had the slight turnover advantage, committing 18 compared to Illinois Tech's 20.
Illinois Tech took 11 of 17 draws.
Up Next
Women's lacrosse will close out the 2018 season on Tuesday, April 24 at 7 p.m. at Beloit College.