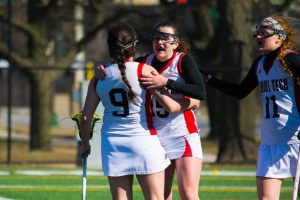 The Illinois Tech Women's Lacrosse season came to a close on April 24 as the Scarlet Hawks (8-7, 7-4 MWLC) faced Midwest Women's Lacrosse Conference foe Beloit College (3-14, 2-9 MWLC). Illinois Tech staved off some early pressure from the Buccaneers to close the season on a four-match winning streak, defeating Beloit 18-6.
How it Happened
Beloit matched the Scarlet Hawks early, playing to an even 3-3 score just over 12 minutes into the match.
Alyssa DeLuca and Jennifer Young scored the next three goals to give Illinois Tech its first sizable lead at 6-3. After a Beloit tally, DeLuca and Shanie Scoles combined for three more goals to give the Scarlet Hawks a 9-4 halftime advantage.
Illinois Tech's run continued out of intermission, scoring the first five goals of the half to go up by 10.
The Scoles, DeLuca, and Young show continued on offense, as the trio scored all of Illinois Tech's second half goals and four of the final six to put the match away.
Scarlet Hawk Standouts
DeLuca closed out the season with a seven-goal, nine-shot performance. She also had five ground balls and five draw controls.
Scoles and Young each had five goals and two assists. Scoles added 10 draw controls and four ground balls, while Young had four ground balls as well.
Isabella Rubin had one goal and one assist.
Jessica Cochis had four saves and moved her record to 7-3.
Stats to Know
Ground balls were even at 18.
The Scarlet Hawks dominated on the draw, leading 19-7.
Illinois Tech doubled Beloit on shot attempts 35-17.