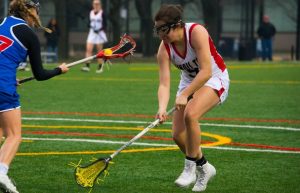 The Illinois Tech Women's Lacrosse team took on another tough conference foe, Augsburg University, on April 8. Illinois Tech fell 13-2 to the Auggies, moving to 3-6 overall and 2-3 in the Midwest Women's Lacrosse Conference.
How it Happened
In the first half, the Auggies dominated play, outscoring the Hawks 7-0 while outshooting Illinois Tech 15-7.
To start the second half, Augsburg went on a 4-0 run to improve the lead to 11-0.
Madison Meredith scored the first of two goals with 19:16 left in the half to put the Scarlet Hawks on the board.
Thirteen minutes later, she tallied once more, this time off of a Shanie Scoles pass.
Scarlet Hawk Standouts
Meredith tallied Illinois Tech's only two goals of the day.
Scoles had an assist, three draw controls, three ground balls, and two caused turnovers.
Marina Eraas (three ground balls, four caused turnovers) and Mallory Tognetti (three ground balls, three caused turnovers) chipped in defensively.
Stats to Know
Shots simply told the story, with the Auggies outshooting Illinois Tech 24-13.
The Auggies also dominated on draw controls with a 13-4 advantage.
Up Next
Illinois Tech hosts MWLC foe Monmouth on Wednesday, April 11 at 7 p.m. Live audio, video, and stats will be available. The live audio will be powered by Illinois Media School.